PLOGGING - MEET THE RUNNERS RACING TO CLEAN THE PLANET
Plogging is the act of picking up litter while exercising. It was officially founded in 2016 by leading activist Erik Ahlström and the name derives from two Swedish verbs – plocka upp (pick up) and jogga (jog).
The popularity of plogging has increased rapidly around the world, particularly amongst runners, amid growing concerns about mounting levels of discarded waste, littering and plastic pollution.
We spoke to three runners all doing their bit to clean the planet: Lindsay Buck, who removes litter from England's highest peak on average four times a week, Peter Maksimow, who plogs daily in either Los Angeles, Colorado or Vermont, and Damian Hall, who collected litter from the Pennine Way while setting a new record time for the 268-mile trail in July 2020.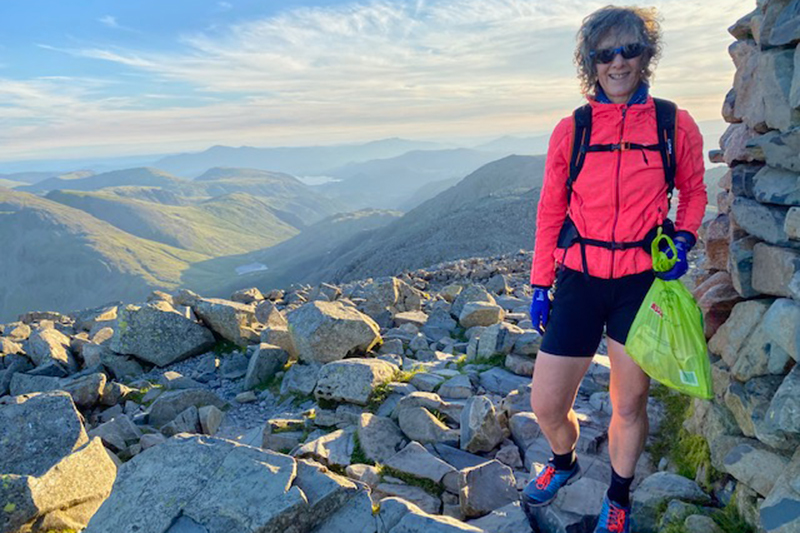 LINDSAY BUCK (AKA THE WASDALE WOMBLE)

I've always picked up litter for as long as I can remember, but retirement 10 years ago gave me more time to do so. Seeing the impact of rubbish left in my local area, which includes Scafell Pike (England's hugely popular highest peak at 3,210ft) and the Wasdale valley, gave me plenty of motivation.
My usual training session is to cycle 8 miles from home to the bottom of Scafell Pike, go up to the summit and back, before pedalling home again. I collect litter both while on the bike and on foot. I did 201 litter-picking ascents of Scafell Pike in 2020.
The most common rubbish I find are single-use items, like plastic and glass bottles, cans, wrappers, cigarette ends, chewing gum, discarded food, tissues and wipes. The most unusual include cat food sachets, dog food tins and clothes.
To be honest, I collect litter everyday wherever I am. It is a hard-wired habit/obsession which means that holidays, trips to running races, just wandering about, all offer opportunity to clean up! I am never without a pair of cut resistant gloves and a bag. My husband Jim will often join me when it's a weekend or holiday.
How do I feel when I see litter? Always saddened, sometimes frustrated, occasionally angry. It shows a lack of respect for our environment, our own selves and each other to leave rubbish anywhere. We don't educate people effectively on what to do with litter (take it home!) when visiting remote locations that may not have bins. It should be commonly accepted that to throw items away in any location, be that urban, rural, roadside, seaside or anywhere else, is completely unacceptable.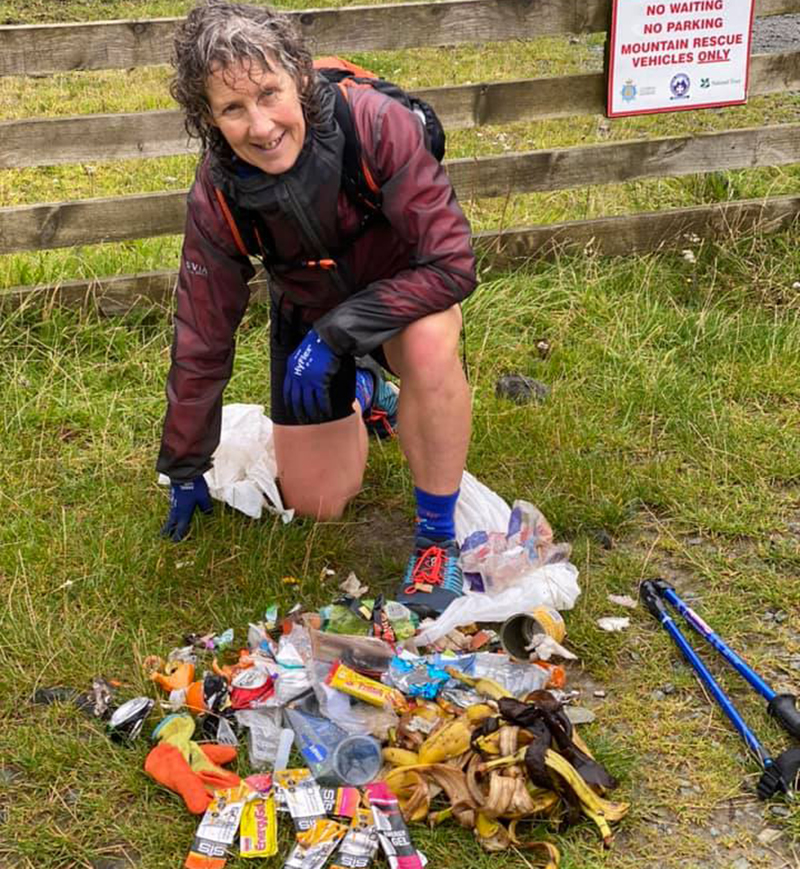 The most litter I've collected in a day was…… as much as I could carry! There were days last year in peak visitor season when I would collect a huge bagful in the morning, before fellow litter picker Mick Pearce would follow my footsteps in the afternoon and collect another bagful.
I then recycle as much as possible, with cans, plastic and glass bottles all going in household recycling bins. Clothes get washed and go to charity shops or clothes banks. Two pairs of children's shoes and a camera were returned to their owners… and a dog coat found in Lingmell Gill is now keeping a canine in Seascale warm!
Education must be the answer, including clear information and more signage. It's an issue which needs to be addressed seriously at a national level and I have written to my local MP on a number of occasions.
What I would say to people who think it is okay to drop litter is 'Please, please think again and instead leave no trace wherever you go. It's only a small minority of people that drop litter, but it has a huge negative impact. Together we can all make a difference.'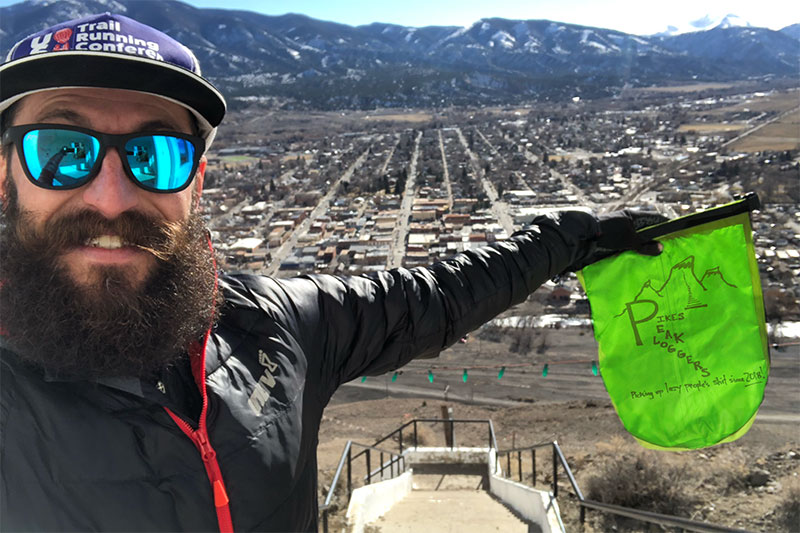 PETER MAKSIMOW
I can't recall exactly when I began plogging on runs, but I do recall running on a rarely trafficked trail when I saw a piece of trash and picked it up because it was oddly foreign and just didn't belong there. The next time I ran that route, I noticed how much nicer it was. That motivated me to keep the trails looking pleasant.
Now I plog every day. My daily goal for 2021 is to pick up at least one piece of trash and I encourage everyone who runs to do the same. One piece each would make a huge difference. Then there are the days that I go out on a plogging mission, knowing I am going to be weighted down at the end of the run with overflowing bags of trash courtesy of the lazy or oblivious people who leave it on the roads or trails.
My location usually dictates what trash I will be picking up. On the streets of Los Angeles, it's a lot of plastic bottles, face masks, surgical gloves and cans. On the trails of Colorado, it's more likely to be gel packets, pieces of running gear and, again, cans. On the snowy dirt roads of Vermont, it's a whole bunch of cans and paper coffee cups.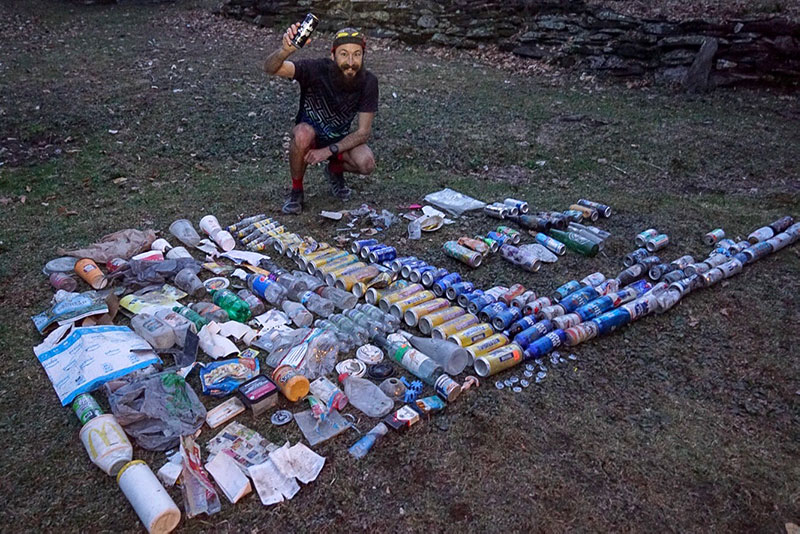 And the most unusual? A rear door to a cargo van, 10 car tires, an onion and an immigration card. They make a change from the usual bags of dog mess that people take time to collect and then leave on the side of the trails.
Plogging can also be used to celebrate birthdays! On my 40th, I set out to collect my age in pounds. Not only did I do it, but I exceeded it with 50 pounds. I also found a car bumper that day. I guess doing it makes me feel like Mother Nature is rewarding me… with a drink of the best beer in the world later in the day!
After collecting trash, I do what I can to recycle it, teracycle it or reuse it. The main goal, after keeping the earth clean, is to get compensated for things like plastic and glass bottles and aluminium cans. If I can reuse it, I do. I have found items such as industrial style flashlights and bungee cords very useful, but the most rewarding items are legal tender in the form of bills. Those pay dividends!

What would I say to people who think it is okay to drop trash? 'Do you know what happens with the trash you throw out your window or drop indiscriminately? Nothing, that's what! Until I come along and do my civic duty so that you and I don't live in a trash heap. Please use your common sense!'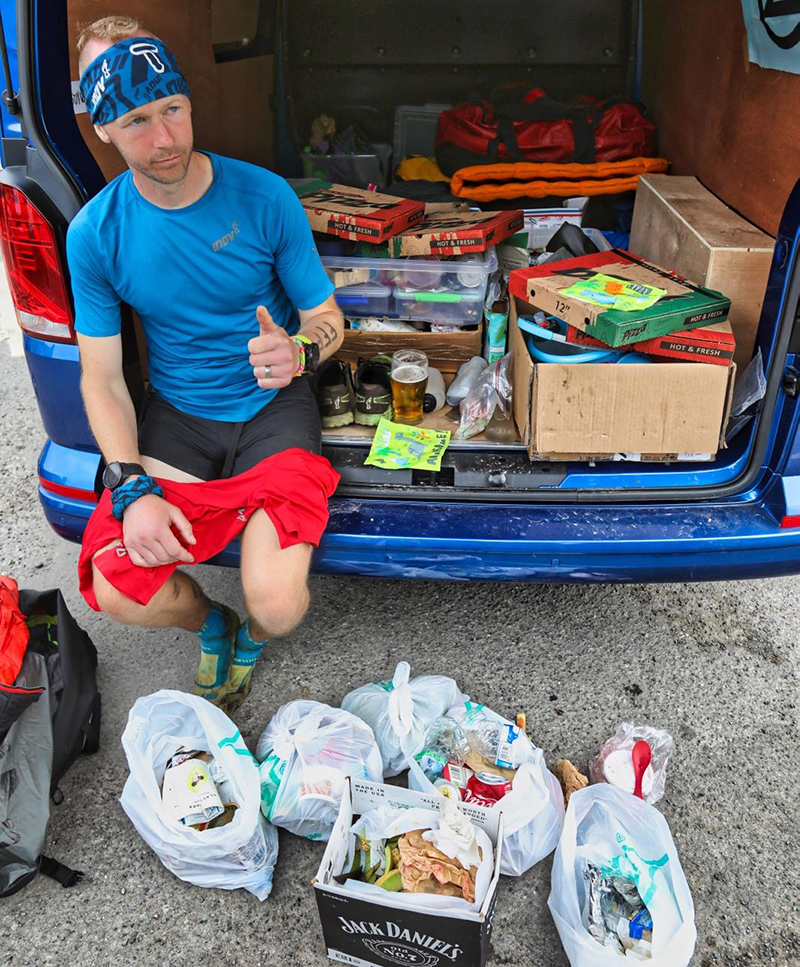 DAMIAN HALL
When I attempted the Pennine Way record run, I tried to make it as low-carbon/sustainable as possible. In truth, picking up litter didn't reduce the attempt's carbon footprint directly – in fact several car journeys happened that wouldn't have otherwise (though I worked with Our Carbon to make my family carbon negative for the year, including the run, which inevitably involved some offsetting.)
But plastic waste is a huge problem. Over 20m tonnes of plastic found its way into rivers and oceans in 2016 (a study in the journal Science estimated), killing animals across 80 different species (according to Australian government's science agency, CSIRO). Microplastics are in our food, at the deepest point on Earth (the Mariana Trench) and the highest point on Earth (the summit of Mount Everest). When plastic gets incinerated that adds to co2e emissions. I guess I did it to raise awareness, too. Our world is turning plastic. And it's not fantastic.
In total, we collected about 8-9kg, almost entirely the work of my wonderful team (the collecting, not the littering). There was some suspicions John Kelly (who ran the Pennine Way a few weeks before and set a record time I had to try and beat) may have been leaving a trail of it to slow me up. But as there were no Krispy Kreme boxes, maybe not. Most of it was near villages rather than up on the hills and it was nearly always food and drink packaging, especially plastic bottles (which can last for 450 years).
I also made a big effort not to create any plastic waste myself during the attempt, which required some research, but increasing amounts of companies, such as Outdoor Provisions, are using compostable wrappers, which has to be the way forward.
Most of my runs involve some litter picking. I do get a bit daydreamy and forget sometimes, if I'm honest, or pretend I didn't see the occasional dog poo bag. But I do otherwise. And to be totally honest, it makes me feel good to pick up litter. It's not saving the world or anything, but it's a tiny, easy gesture. I live under the illusion that people are less likely to litter in un-littered places, whereas it's somehow easier to add to a pile of it.
What would say to people who think it is okay to drop litter? 'I'm not angry. I'm just disappointed.'
*Please plog safely and responsibly. For more information, visit the official website here.
*Related links: Q&A with Damian Hall on Pennine Way record | Our commitment to sustainability
Lindsay wears her trusty ROCLITE G 275 trail running shoes for most her ascents of Scafell Pike, while Peter is a big fan of the TERRAULTRA G 270 for both the trails and roads of Los Angeles, Colorado & Vermont.
Damian also wore the TERRAULTRA G 270 when breaking the Pennine Way record. Check out our full range of trail running shoes.