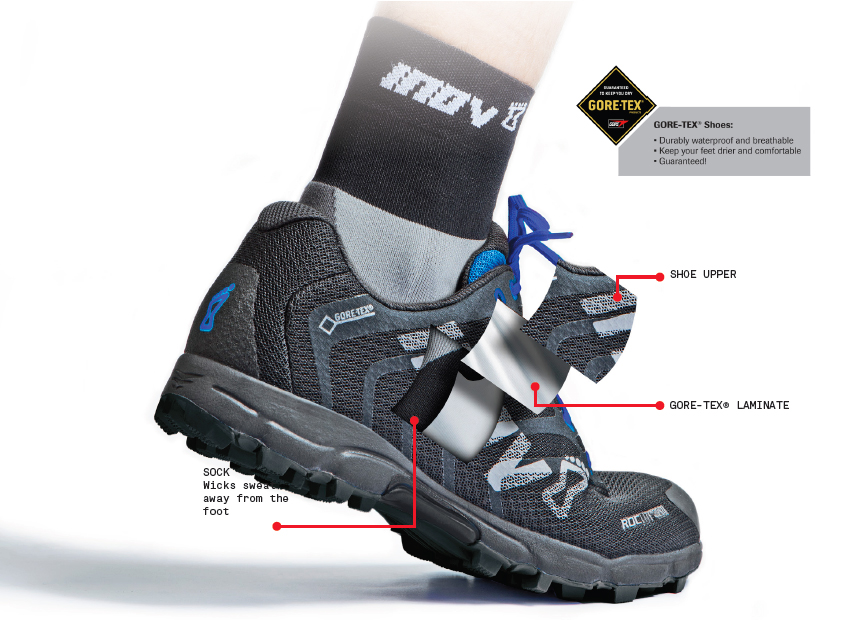 inov-8 has partnered with Gore to develop inov-8's most flexible athletic GORE-TEX® footwear ever. Leveraging innovative construction and material solutions, the roclite™ 282 GTX provides the optimal combination of natural movement and flexibility with climate comfort and protection, so you can keep running.
GORE-TEX® PRODUCT TECHNOLOGY
inov-8 GORE-TEX® footwear provides waterproof protection and optimum climate comfort for your feet.
BREATHABLE THEREFORE DRY
The pores of the membrane are about 700 times larger than a water vapour molecule, and this allows water vapour (perspiration) to escape.
Cooler feet in warm conditions
Dry rather than sweat soaked feet
WATERPROOF THEREFORE DRY
The microporous structure of the GORE-TEX® membrane consists of approximately 1.4 billion pores per square centimetre. Each pore is about 20,000 times smaller than a drop of water and therefore no moisture can penetrate from the outside.
Fewer blisters from wet runs
Reduced weight gain in wet conditions
Warmer feet in cold, wet weather