Four ways to make your local hikes more adventurous
For millions of people, particularly city-dwellers, lockdowns resulting from the pandemic have put the mountains firmly out of reach. The 'stay at home' order has limited many to local walks only – and, at times, that can prove frustrating.
But there is good news. With a little planning and creativity, you can still have an epic adventure from the doorstep in either your hiking boots or trail running shoes. You'll have new experiences, uncover hidden gems, scratch the wanderlust itch and get a sense of achievement – all in your local area, without needing to drive anywhere.
I live in Cockermouth in north-west Cumbria (UK). The beautiful Lake District fells are within touching distance by car, but I've decided not to drive for any hikes during this lockdown. Instead I've completed a daily walk from my doorstep every day in 2021 so far, and I've learnt so much about my local area. I've discovered new trails – a disused railway, a riverside track and historic village-to-village rights of way – and found hidden beauty all around.
It can be easy to get bored of your local walks and to pine after the farflung hills. But there are ways to spice up your doorstep hikes and – for me at least – these tactics have worked. I haven't got bored yet and I really look forward to my daily outing; it's what's keeping me sane during these strange times. So, here's some of my top tips and tricks to get the absolute most out of your local hikes or runs.
1. Pore over maps
Bored of doing the same old walk over and over again? Then grab a map – preferably something like an Ordnance Survey (1:25,000) map of your local area – put a mark where you live and draw a circle with a 5km radius around your home. Then study the map carefully and pick out 10 features within the circle you'd like to visit, ensuring a good spread to the north, east, south and west.
These features can be anything – a park, reservoir, nature reserve, village green, canal, small woodland, historic building, pub, or whatever else catches your eye - the wackier and more unusual, the better. And then simply plan a different, circular route to each feature (apps such as OS Maps are excellent for route plotting) and you've got yourself an exciting schedule of 10 new local hikes to experience.
My favourite discovery using this technique was a riverside walk to a derelict building listed as Stanger Spa on the map – I discovered it was a former saline Holy Well from which a Doctor sold 'curative' water in the 1800s. The well was still there and, while tempted to taste the magical healing water, it was rather green and dank when I visited, so I gave it a miss. But this example perfectly proved that you can easily stumble across hidden gems by trying new local walks.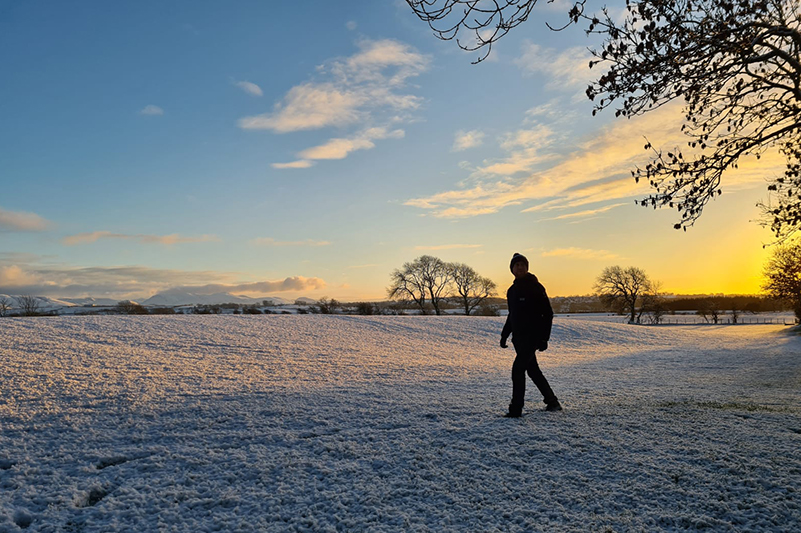 2. Embrace the darkness
Go for a walk in the dark. Even a local route you've walked a hundred times before will be transformed at night. It'll have a different atmosphere and feel under moonlight. You might see different wildlife, hear different sounds, feel a greater sense of tranquillity – and, best of all, on a clear evening you'll be treated to the magic of a starry sky. If you're really lucky, you might even see a shooting star (please wish for an end to this coronavirus nightmare!)
3. Go forest bathing
Don't get the wrong end of the stick – it has nothing to do with water. No swimming costume or bubble bath needed here. Forest bathing simply refers to immersing yourself fully in the forest, for the purpose of enhancing your health, wellness and happiness – or, if you prefer, bathing in the atmosphere of the forest.
It is not exercise; not hiking or running. Instead it is something slower and gentler, akin perhaps to a meditative walk. Or, put another way, it is about simply being in nature and connecting with it through your senses of sight, hearing, taste, smell and touch. The mental and physical benefits of this approach are plentiful. It will clear your head, help you to relax and de-stress, and empower you to put life's little problems into perspective – and that is something we all need during this pandemic.
So next time you go for a walk or run, why not build in some time for a spot of forest bathing, either in the middle or at the end of your outing?
It's super-easy to do. Simply stop in a forest (or just near some trees), turn off your phone, and sit still (or walk around slowly). The real aim is to open up your senses to the natural world. What can you hear? What can you smell? What can you see? How does the ground feel under your feet? This isn't hippy nonsense and you don't have to hug a tree (unless you want to). It's just a way of slowing down, de-stressing and re-connecting with nature – something which humans have done for millennia. The process will, hopefully, be therapeutic.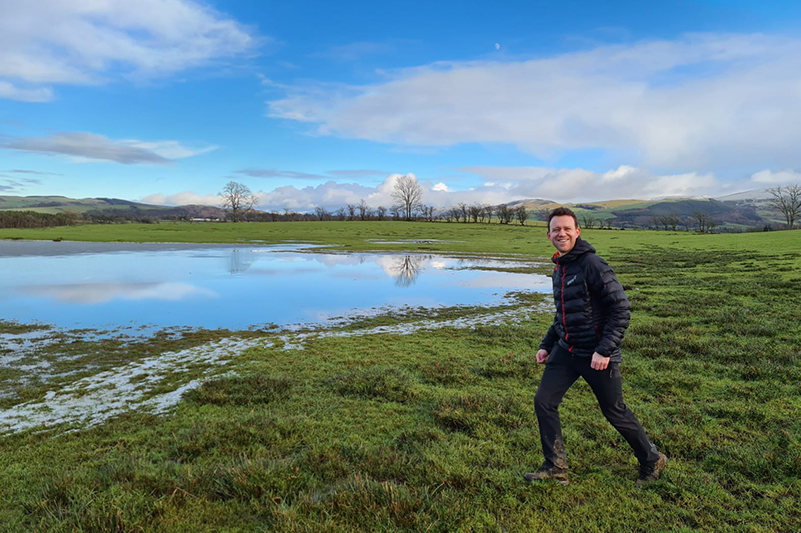 4. Take on a challenge
Sometimes setting yourself a challenge will give you the added motivation to get out there come rain or shine. You could try and walk 50km or 100km over the next week, for example, or 500km over the next five weeks – or whatever seems challenging yet achievable to you. It'll give your local walks an overarching purpose, a lockdown mission if you like, and it'll feel absolutely awesome when you hit your goals. I've found this to be the case for me, ever since I signed up to the inov-8 Step Up and Play Your Part challenge.
James Forrest 'The Mountain Man' has fast-hiked up all 1,001 recognised mountains across the UK and Ireland, setting a number of peak-bagging records in the process. In 2020, he became the fastest person to solo-hike all 214 Wainwrights peaks self-supported in the Lake District (UK). James is also the author of 'Mountain Man: 446 Mountains. Six months. One record-breaking adventure'. BUY HERE.
Follow James: the Instagram | Facebook | Twitter | Website
Read more blog posts by James: The mental health benefits of hiking | Setting a new Wainwrights record