Find the Perfect Fitting inov-8 Shoe
There seems to be a myth that all inov-8 shoes are narrow fitting. This is simply not true. Across our categories, from trail running shoes, to hiking boots and cross training shoes, we have a variety of different fit options for all types of feet.
Let's start with the details, the nitty-gritty, the things you really need to know:
We have graded the width fit of all our shoes from 1 to 5 to make it as easy as possible to find the perfect fitting shoe.
All our shoes are designed with MET-CRADLE technology to lock down the mid-foot for a stable hold. Where they differ is in the toe box.
Grade 1 represents our closest, most precise fit in the toe box. At the other end of the width scale, Grade 5 has the widest-fitting toe box.
| | | | | | | |
| --- | --- | --- | --- | --- | --- | --- |
| Fits Narrow | 1 | 2 | 3 | 4 | 5 | Fits Wide |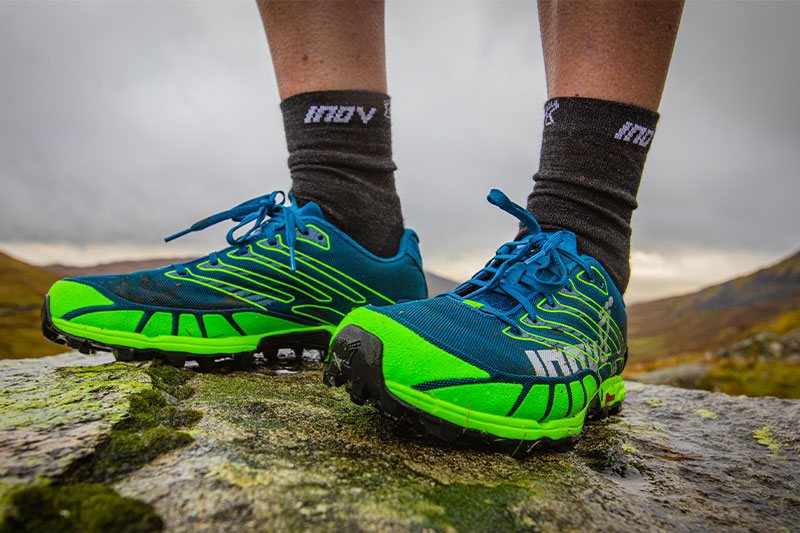 Ok, so why do we do this? Why do certain inov-8 shoes have a narrower fit grade of 1 and others a wider fit grade of 5? The answers are these:
The lower the number on our scale, the narrower the fit, which ensures minimal internal movement of the foot when running fast on technical or muddy terrain. The closer the fit the more agile and nimble you will feel over these types of terrain and the more confidence you will get when contouring across steep gradients. Such examples include many of the X-TALON trail running shoes and MUDCLAW trail running shoes. For cross-training, the best option is the F-LITE G 230.
Shoes with the higher numbers on our scale will suit athletes or hikers with a wider foot and those wanting that extra comfort in the toe box. This wider toe box allows the toes to splay, perfect for longer runs, ultra-running races and hikes when toes begin to swell and, in cross training, for increased stability when lifting heavy weights. Such examples include the TERRAULTRA trail running shoes, the PARKCLAW road-to-trail running shoes and, for cross training, the F-LITE G 300.
Shoes that are graded 3 sit in the middle of our scale and provide the best of both worlds (the fast feel and agility of a narrower fit and the comfort of a wider fit) without being a specialist at either. Many of our ROCLITE trail running shoes and ROCLITE hiking boots – the real all-rounders of the range – are graded 3 on the width scale. Similarly in cross training, the F-LITE 235 V3 is an outstanding all-round choice.
As a rough guide, Grade 1 represents an industry B fit, while Grade 5 equates to a 2E fit in the forefoot.

While it is true that in trail running most of our shoes for technical terrain and soft/muddy ground are at the narrower end of our scale and our shoes for longer-distances over hard-packed terrain are at the wider end, giving the foot to splay naturally, we also offer alternatives.

We'd recommend our wider-footed trail running customers try the X-TALON 255 or X-TALON ULTRA 260 running shoes and that those looking for a wider-fitting gym shoe, try the F-LITE G 300.

As always, we would recommend trying on our shoes with one of our retail partners, but we realise this is not always possible.

Finding what width grading each of our shoes have is easy. Head to our website and on all category pages you will find a 1-5 fit scale tick-box in the top left corner. Yes, it really is that simple. Just check the boxes and see which shoes have which width grading.