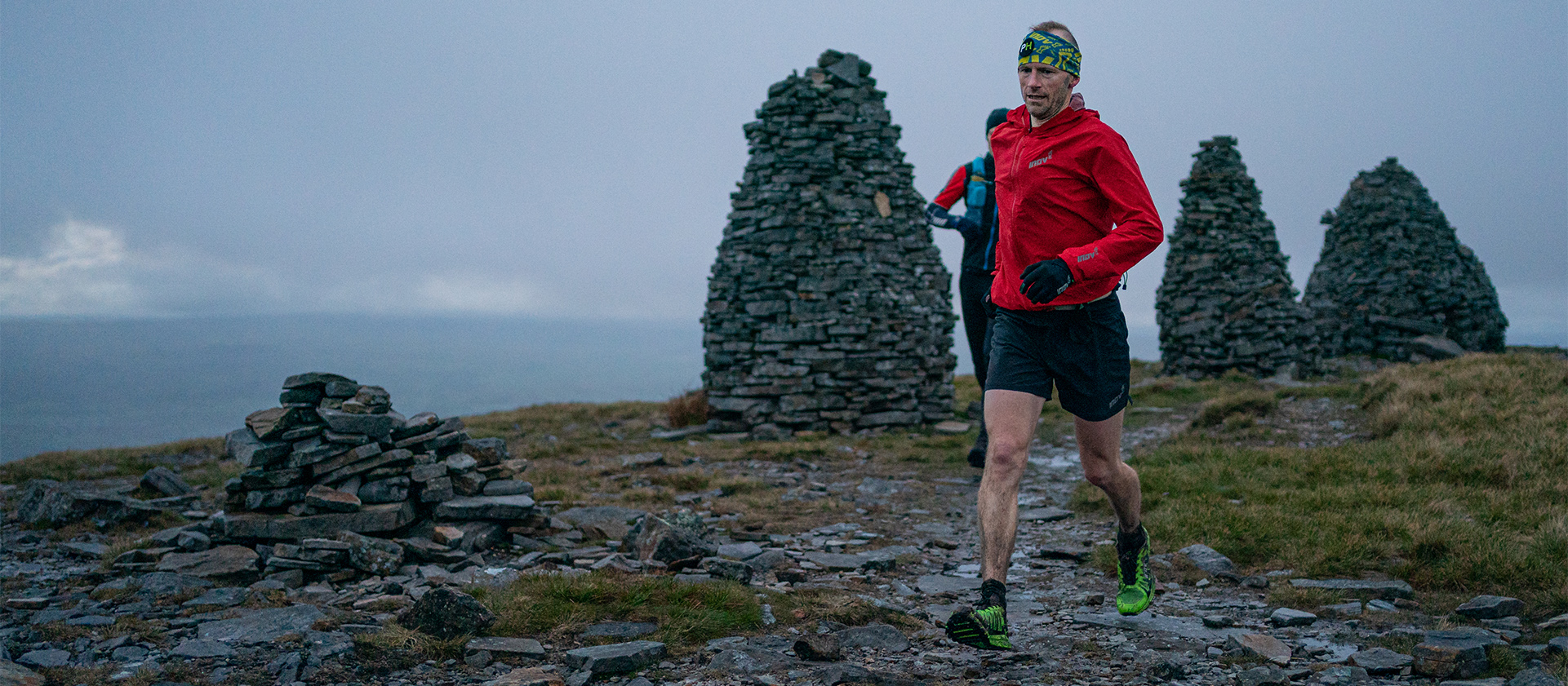 Q&A with Damian Hall on his Wainwright's Coast to Coast record
Ultramarathon runner Damian Hall recently set a new record time for the 185-mile Wainwright's Coast to Coast route.
Running west to east, from St Bees on the Irish Sea coastline to Robin Hood's Bay on the shores of the North Sea, the inov-8 ambassador completed the iconic cross-England challenge in an incredible time of 39 hours and 18 minutes. He beat Mike Hartley's previous record, which had stood for 30 years, by 18 minutes.
Established by legendary guidebook author Alfred Wainwright in 1973, the Coast to Coast passes through the Lake District, Yorkshire Dales and North York Moors National Parks, and is hugely popular with hikers who usually complete it in 12 or more days.
Damian – who picked up litter along the way and led a mini beach clean at St Bees the day prior to starting – did it in just over one and a half days.
The 45-year-old battled sleep hyponatremia (read more below), sleep deprivation, heavy rain and boggy underfoot conditions along the route, which includes 28,000ft of ascent – almost the equivalent height of Mount Everest.
We sat down with Damian for a post-challenge Q&A:
How do you reflect on your record run on the Wainwright's Coast to Coast?
A cracking adventure with pals, a successful outcome (just), but a big lesson learned too.
You looked understandably exhausted when you finished. How deep did you have to dig for that record?
Pretty deep (more below). It's a bit of an ultra running cliche, but everything was going so well, until suddenly it wasn't. I was two hours ahead of Mike Hartley's record for much of the run, yet somehow only finished 18 minutes ahead of it. I like to keep dot watchers using the live tracking map entertained.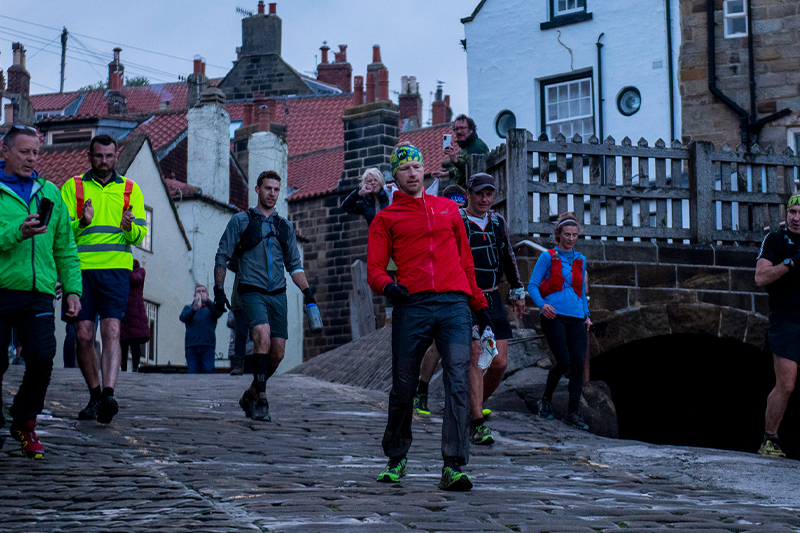 There was a sense of mental disorientation and an unusual lean to your running style late on in the run. What do you put this down to?
After talking to people who were around me and various sports science experts, it seems likely I got myself into a state of hyponatremia, best understood as overhydration or low sodium.
I consumed a maximum of 400ml/hour liquid, which isn't loads, but perhaps in the cool/cold conditions was too much. I also stopped taking electrolytes at halfway, temporarily – but in my tiredness I forgot to restart them. It's difficult to be sure whether the fluid intake or the lack of sodium intake was the key thing. But either way, I got a bit messed up. I basically felt drunk. I was confused, I wasn't sure where I was going or why, felt weak, slowed right down, fell over a bit. It was like being a student again.
Hyponatremia can be fatal, so it's not that funny really and I am embarrassed that with my experience level it happened to me. But it feels important to share the lesson so hopefully others avoid it. Drink to thirst. Better a little under-hydrated than a little over. If your urine is transparent, you've drunk enough. Pale straw colour is better.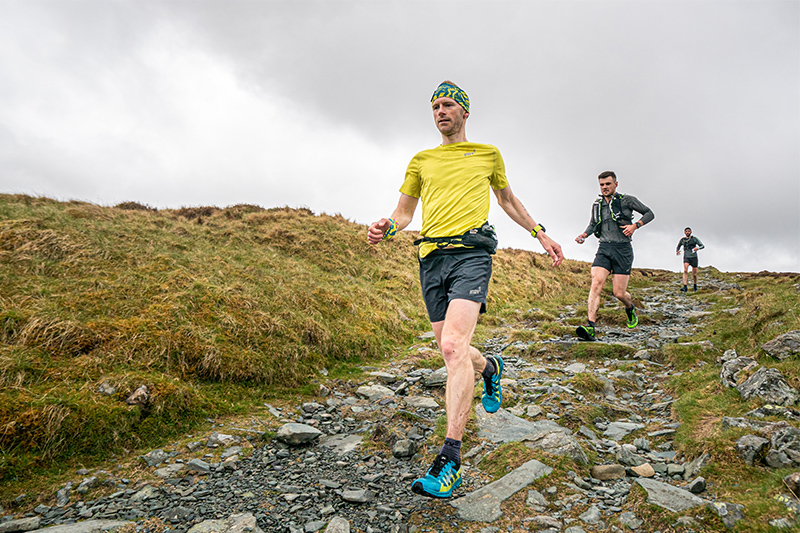 How would you compare this achievement versus others?
It does feel a bit more imperfect to be honest, because of stuffing up towards the end. I know I could have done better, perhaps in better conditions too. But it was still a cracking adventure.
You went out very hard then slowed considerably later on. Was this always the plan?
I just went with feel, really. I had an ace time running through the Lake District first up and didn't see much reason to hold back. A conservative approach has usually paid off for me, but I'm interested in experimenting a little.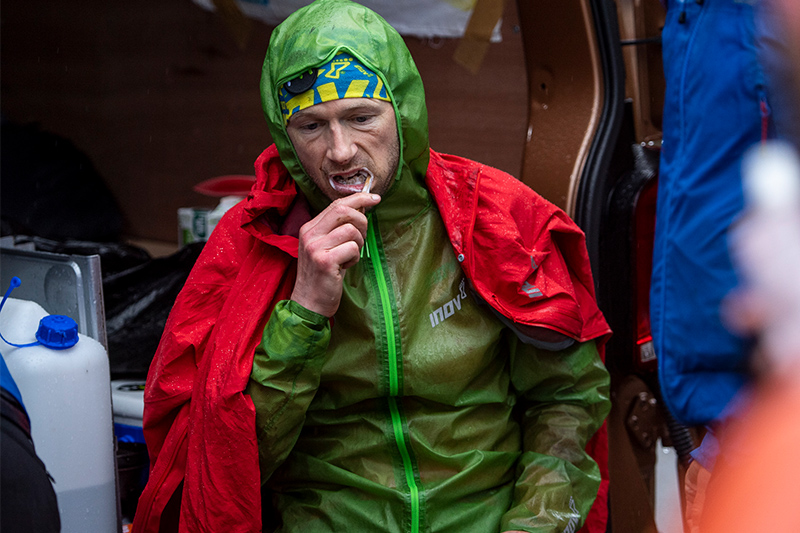 How much sleep did you get, and would you do it any differently if you ran it again?
Zero sleep. There's no time really. One night without sleep is fine. A second one is trickier. So, I'd do the same again (but hydrate differently).
What about food – what were you craving?
I had such an ace picnic. I started with Outdoor Provision bars, Supernatural Fuel pouches (both vegan with waste-free packaging) and banana and nut butter sandwiches. I moved on to pizzas (thanks to my incredible support runners), chips at Kirkby Stephen, then at night-time rice puddings, porridge, fruit and soups. Precision Hydration gels, cola and ginger ale all went down well towards the end. Plus tea, obviously. I was living the dream.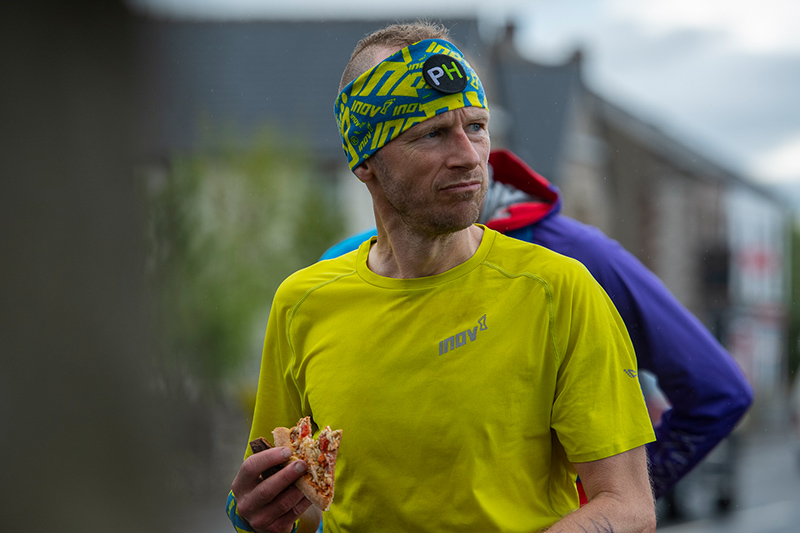 The weather turned quite nasty on day two. Tell us about how tough that period was?
We had perhaps four-five hours of rain and winds on the North York Moors, but it wasn't so bad. I'd rather that than a heat wave, to be honest!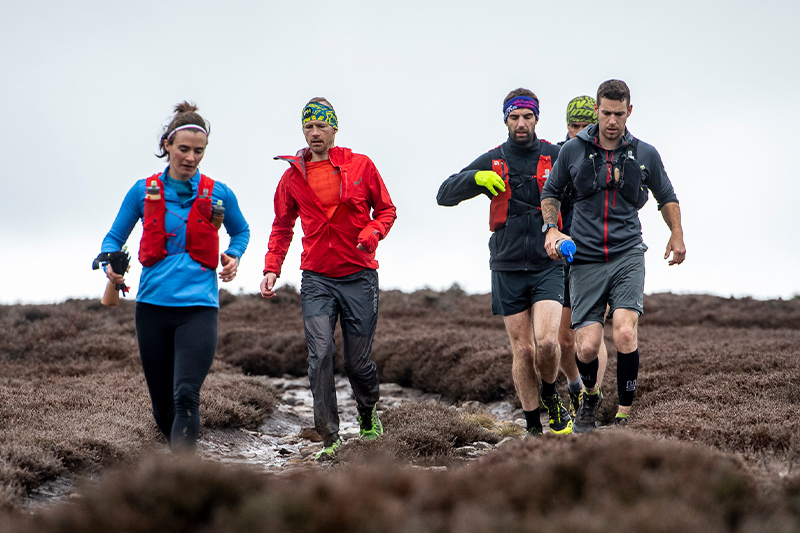 TERRAULTRA G 270 shoes, as they were on the Pennine Way then-record run last year, were ace again. I swapped into a second pair – and fresh socks – at around halfway so I could enjoy dry feet… for a while.
I love the STORMSHELL jacket too, so that was used a lot, plus a RACE ELITE WAIST and the really breathable base-layers partly made from recycled fabrics, a merino mid-layer, the ULTRAPANT waterproof trousers came in very handy, a wrag for my big forehead, gloves, socks, shorts.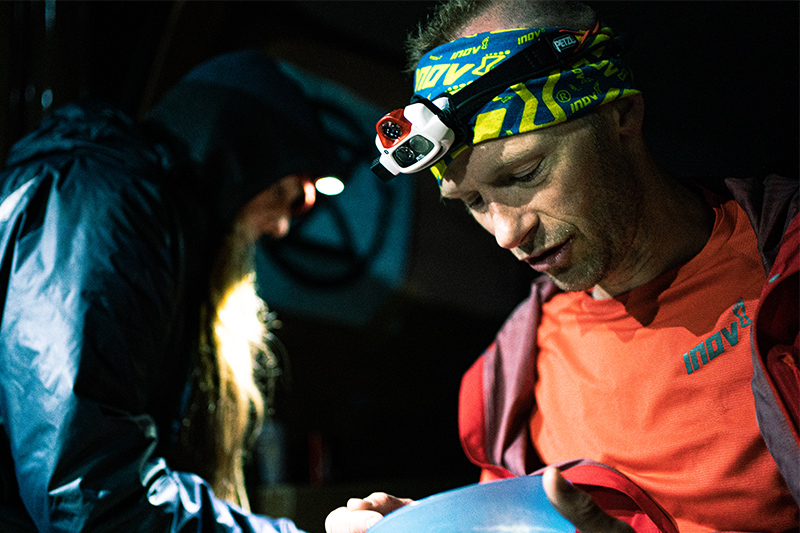 Our Carbon, made the Wainwright's Coast to Coast challenge, along with his family's lifestyle for the year, carbon negative. He will offset the emissions from vehicles used by his support team by working with Trees Not Tees. Damian also had the letters NPB (which stood for No Planet B) written on his arm and continues to raise money for Greenpeace – donate here.
*All photos by Leo Francis and Steve Ashworth (Endurance Creative)