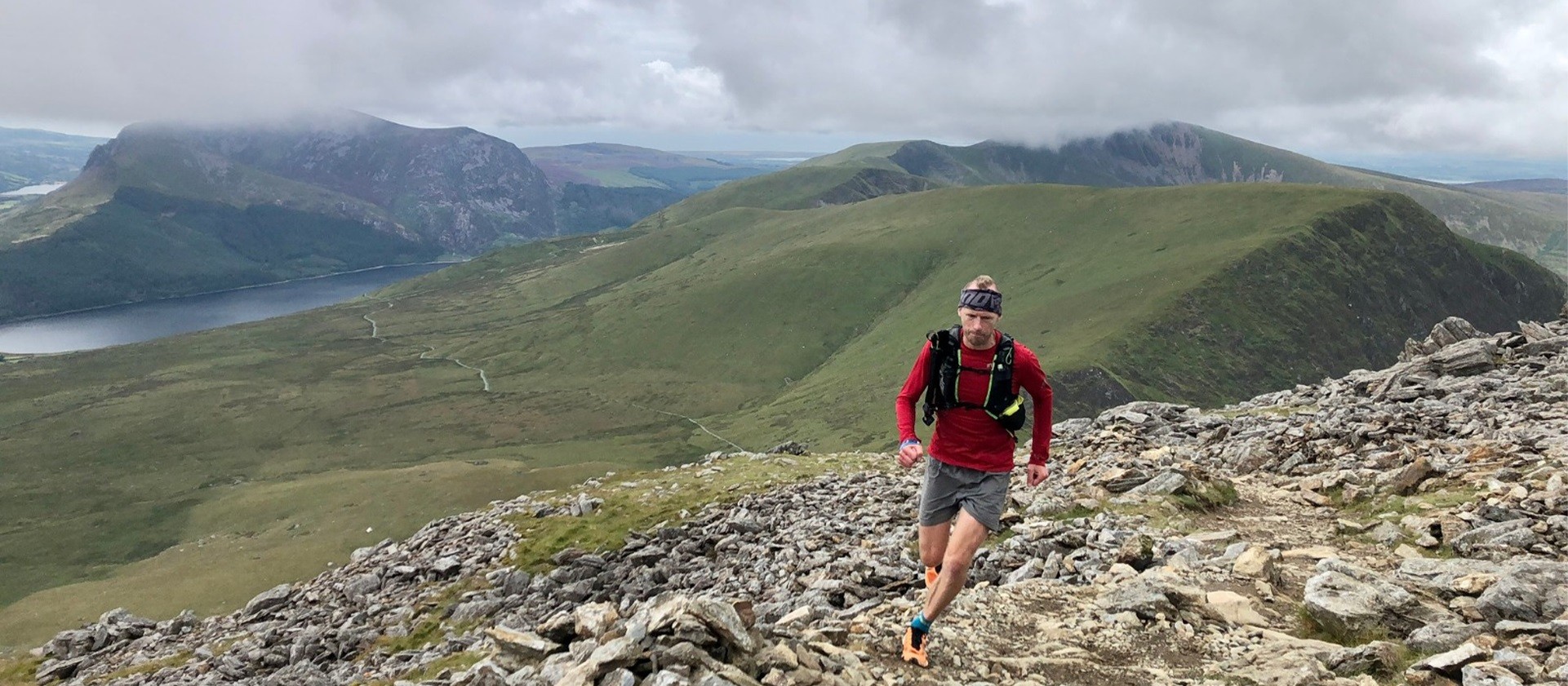 How to train for a mountain ultra when living in the flatlands
Damian Hall is about to embark on his fifth race around Mont Blanc – a 105-mile ultramarathon race that incorporates a mammoth 10,000m of ascent around Europe's most famous mountain. His best finish to date came in 2018 when he placed fifth among a stacked field containing many of the world's top long-distance trail runners.
The inov-8 ambassador and UK Athletics coach lives in Wiltshire, one of England's less mountainous counties where the highest point is below 300m.
So how does Damian, who earlier this year set a new record time for the 185-mile Wainwright's Coast to Coast in inov-8 ultra running shoes and kit, train for epic ultra running races and challenges in "lumpy" mountains? He reveals his secrets in this blog post.
GO FLAT OUT
Firstly, don't panic. It's natural, if your local terra firma isn't lumpy, to have a hill inferiority complex and feel desperate for vert (vertical gain). But many of my coaching clients train for and do well at mountain races, despite living in flatter places. At certain stages of training, going flat out could even be a subtle advantage. There is a time for hills/fells/mountains/lumps, but first things first: get really effing fit.
Easy volume, shorter intervals, good technique and strength work (more anon) are all thought to benefit running economy, which is best understood as your fastest easy pace or faster paces becoming easier. World-record marathon runner Paula Radcliffe's VO2 max didn't budge between 1991 and 2003. But her running economy improved by 15%. Running economy on the flat has a high correlation with uphill running economy, according to a 2018 study published in the Journal Of Applied Physiology. In other words, runners who are fast on the flat stuff were fast on ups.
The best thing to do for any ultramarathon is simply get as fit as possible and raise your running economy. And that's best done on the flat. Even runners who live in lumpy areas can often benefit from quality flat running. Anecdotally, going up and down steep lumps all the time may well slow runners down.
SPECIFICALLY SPEAKING
The specific phase is the time to care about vert. If you're training for something proper lumpy like, you'll need to run on similar terrain at some point to gain those crucial muscular (and psychological!) adaptations for those torturous 1,000m descents. But save that for your specific phase of training, around six weeks out from race day. Stick some back-to-back days in your calendar and go to the mountains (for me it's either The Alps, Snowdonia, Lake District or Brecon Beacons), or perhaps a B/C race somewhere lumpy 6-8 weeks out, where you can run the downs hard (but with good form) and practice power-hiking with poles on the steep climbs.
You're hunting for vert, but really it's adaptations from the downhills that you want primarily. These muscular adaptations are easy come, easy go, so you don't need to be doing this for months. Just in that specific phase (when you're also practicing deliberately with fuelling and kit).
RUN OF THE MILL
Within that specific phase, you could also be making use of a dreaded treadmill to improve uphill running and hiking. Do evening doubles of 20-30 minutes, 2-3 times a week, with the dreadmill set to 15 percent incline (as studies show this is where it often becomes more efficient to hike), and a combination of fast-hiking and easy running, after a warm up. There's less science behind this, but it should give some aerobic, muscular and biomechanics adaptations. As well as some confidence. Stairs, steps and repeats on small local lumps can also be useful.
STRONG TALK
Strength work is crucial. There's a "large, beneficial effect" of strength training on running economy, according to a 2016 study published in the Journal of Strength and Conditioning Research. It found that after strength training, runners could maintain the same pace using 3-4% less oxygen.
A stronger core will benefit good form too (especially for the longer stuff) and is vital for older athletes (who will start to experience muscle wastage). It will make you more robust for hard training (especially for those less accustomed to big lumps) and should make legs more fatigue resistant. Upper body work is useful too, if you'll be lugging mandatory kit about and using poles for 24 hours-plus.
BOSS THE BASICS
Lastly, don't forget to do the simple stuff well. All the holistic things, the things you're doing when you're not running, such as eating enough, sleeping enough, not spending all day hunched at a desk (use standing desks), plus staying mentally healthy and excited about this wonderful sport of ours and the ace adventures it brings.
More blog posts by Damian: Leg strengthening exercises for runners | Beginner's guide to ultra running
DAMIAN'S ULTRA RUNNING KIT